Fortissimo vocal ensemble, Bourgas, Bulgaria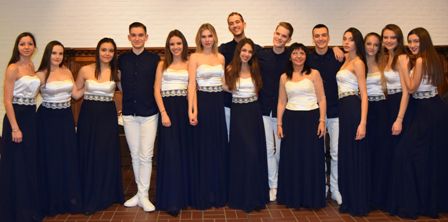 FORTISSIMO vocal ensemble was created in 2014. The audience is fond of the ensemble's beautiful vision, organic performance, homogeneous and expressive sound. Peak in the ensemble's short biography are the following awards: 1st prize in the Chamber Choirs Category and the Prize of the Bulgarian Choral Union in the XXXVIII edition of the International May Choir Competition "Prof. Georgi Dimitrov", gold medal and winner-award in the Chamber Choirs and Ensembles Category as well as the Grand Prix of the Nations in the same category in the European Choral Games and Grand Prix of the Nations in Riga, Latvia in 2017, the two highest prizes - First prize of the official jury. The ensemble has performed with great success in Shrewsbury, England and Antwerp, Belgium.
The repertoire of FORTISSIMO comprises original arrangements tying together works of numerous styles and genres - classical music and beatbox elements, folklore, Bulgarian and international pop and rock music.