Choir RODNI ZVUTZI, Shoumen, Bulgaria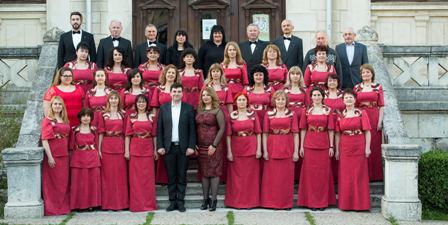 The RODNI ZVUTZI Mixed Choir was founded on August 15, 1898, under the guidance of Veliko Dyugmedjiev. In the period 1961-2011 Prof. Veneta Vicheva was the choir's Conductor and Artistic Director. She inspired the choir to excel and to be among the best Bulgarian choirs with concerts in Germany, Italy, France, Slovenia, Poland, the Czech Republic, Hungary, Russia, Ukraine and others.
From the end of 2015 Hristo Atanasov became the Chief Artistic Director of the choir. In 2016 the formation won the Silver medal of the 5th "Music and Sea" International Competition in Palaia, Greece. On November 1, 1997 the choir took part in the solemn concert celebrating 160 years of activity of the Cultural centers in Bulgaria held in the Grand Hall of the National Palace of Culture.
Again in November 2017 the formation returned with two First prizes from the VIII International Competition "The Magic Bridges of Vienna and Prague".
The choir's long-standing repetiteur is Janeta Katzarova. Since 2015 Dr. Yana Koseva is the choir's maestro.