New European Choir AGAPI, Perea, Thessaloniki, Greece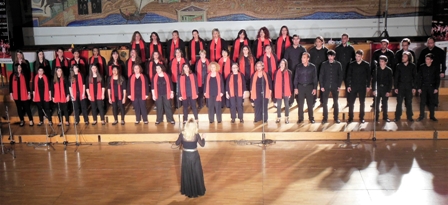 The New European Choir was founded in 2009. It has performed at choir festivals organised by various municipalities in Greece, and also at the annual OTE festival.
The choir sang at two music & dance performances at the Thessaloniki Concert Hall, namely "Cinderella" and "The Fragile Nutcracker".
In July 2015, "AGAPI" choir won 1st Prize (Modern & Jazz Category), 1st Prize (Sacred Music Category), 2nd Prize (Mixed Choir Category) at the 19th "ANTONIO VIVALDI" Choir Competition in Karpenissi, Greece, and the title of "Best Festival Choir".
In 2016, the choir prepared a tribute to Russian composers for the "Russia-Near & Far" event, and also performed the Christmas oratorium "Artavan, The Fourth Wise Man" by V. Glykides.
In July 2016, "AGAPI" choir won the "Golden Diploma" at the Laurea Mundi Budapest choir competition, in the Category "Pop, modern and jazz".
In April 2017, it was awarded the Best Choir Audience Award at the 7th World Festival on Musicals of Thessaloniki (non-competitive).
In July 2017, the choir won two Silver Medals (Categories "Free" and Mixed Choirs, Sacred Music) at the 23th International Choir Competition of Preveza.
In April 2018 it performed the "Misa Criolla" by A.Ramirez in the "Con­ci­er­to Latino en Salonica".
Since its establishment, the choir's maestro is Ms Eleonora Kalaitsidou